CLEANING OF VACUUM SEWAGE PIPELINES
USING VACUUM-CONTROLLED RECIRCULATION
OUR TECHNOLOGY
Starting from technologies used in the defence industry, we have developed a cleaning system using vacuum-controlled recirculation that allows us to maintain vacuum in pipelines while cleaning is carried out, avoid stress on the system and eliminate the risk of leakage inside the yacht.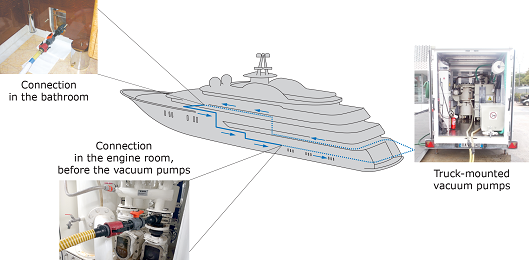 KEY BENEFITS
QUALITY
SAFETY
SPEED
Recirculation of the solution causes friction that enhances its cleaning power.
Maintaining vacuum in pipelines during recirculation avoids stress on the system and eliminates risks of leakage inside the yacht.
Having vacuum pumps mounted on trucks parked on the quay minimizes impact on normal daily on-board activities.
The cleaning service can be performed both in port and at the shipyard.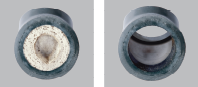 FREQUENCY OF CLEANING
To prevent malfunctioning and unpleasant blockages of the system, with consequent inconvenience for guests and crew, it is suggested to perform the cleaning every 5 years.